Your Dream Theater Done Right!
Any Size Question! Ask us, we know!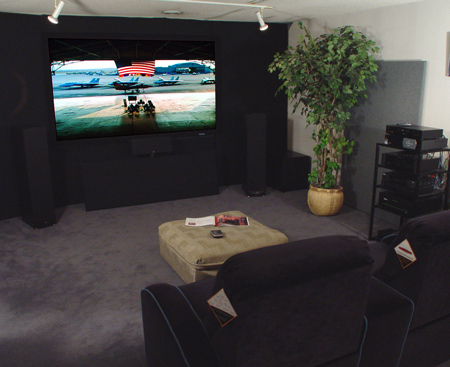 DESIGN:
Got a photo? We'll design it for you
Complete CAD drawings for your approval
Attention to detail of all factors
Consultation on all aspects of construction
Consultation with spouse to insure domestic tranquility
VIDEO - See Home Video
SEATING:
Comfort with clear sound and viewing angles
Real theater seats (many styles/colors/fabrics)
Proper arrangement of your furniture
Clear sight lines for all
Correct acoustics (placement and chair style)
Raised seating for groups
Bass Enhancers for chairs or couches
INSTALLATION:
Crucial combination of design, room and equipment
Over 25 years experience
Certified and factory trained installers
Expertise in all levels of audio/video, RF and IR
ACCESSORIES:
Finishing touches for your theater
Authentic movie posters
Personalized movie marquees
Velvet admission ropes
Yes, even real theater POPCORN MACHINES!